It is health that is real wealth and not pieces of gold and silver – Mahatma Gandhi
Healthcare in India is a known unknown. With the diversity of Indian population and spread across types of places such as slums, urban and rural, reaching the needy is the toughest job. At Seva Bharathi we reach the needy through multiple projects. Our projects are unique in nature and today we have created a benchmark in the mode of delivery.
With the way our projects are progressing and scaling up, we need additional hands to take it to the next level. Join us now by contributing generously.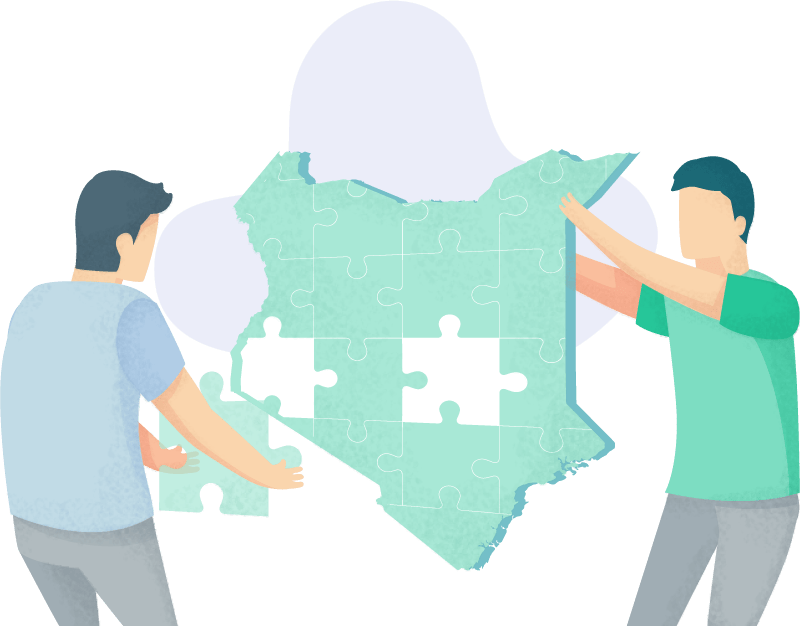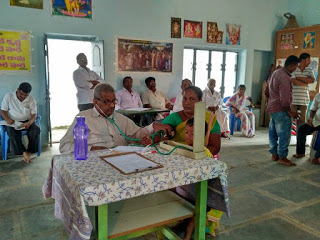 Shelter Home at Gandhi Hospital
Gandhi Hospital is been in the forefront in providing the affordable healthcare to the patients coming from across Telangana. While the patient suffering and the treatment is a psychological pain, the patient attendants face a huge challenge for affordable shelter and food during the treatment.
Seva Bharathi in association with Shivananda ashramam has been running a shelter home for patient attendants providing 3 Meal, a place to reside and a locker to be secured. The cost of these facilities is only Rs. 10/- per day.
No. of Beneficiaries / Year: 82,750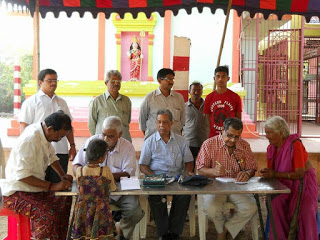 Helpdesks at Government Hospitals
With the current lack of resources in the govt. hospitals, getting a proper guidance in Government Hospital can be a difficult and delaying. Seva Bharathi maintains these Help Desks which guide everyday visitors with their queries and advise them accordingly. 
The volunteers greet and guide patients through helpdesks. Currently we have our help desks in OP, radiology, gynaecology and orthopaedic wings.  In addition to the Gandhi hospital, our OP help desks are operating in area hospitals of Nampally and Vanastalipuram.

Total No. of Helpdesks: 4
No. of Beneficiaries / Year: 7,25,000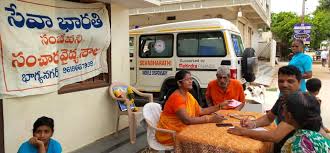 Mobile Ambulance (Sanjeevani)
With the city limits expanding on day to day, the slums are growing and the lack of healthcare education / awareness remains a challenge and costing lifes abruptly.
Mobile Ambulance (Sanjeevani), a mobile healthcare service tries to address problems of mobility, accessibility and availability to the needy in slums. The mobile ambulance visits slums and low income areas along with the doctors for basic health checkups. Complex / advanced cases are sent for review with the hospitals.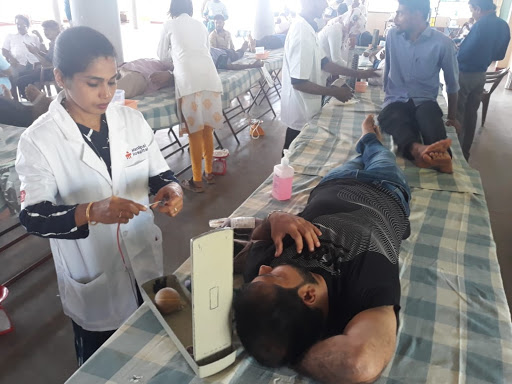 Blood Donation Drives
Seva Bharathi works in this area by conducting blood donation drives across the state working in tandem with other NGOs working in the area of 
thalassemia / cancer for poor patients. Knowing the demand and having a strong ground presence coupled with capability to work with youth organisations Seva Bharathi conducts frequently blood donation camps. This way we not only collect blood for various needs but we also raise awareness about the importance of blood donation in common people of this society.
90% of our beneficiaries are from poor and low income background where the education is a second priority and they are excited with our work. Join us and be part of the transformation journey.
Now is the time to show our solidarity to the needy! Why Wait
I aspire to study further and become a teacher and impart knowledge among more children
Mounika


What we do?
Mounika is a 8 year old girl studying in the class 4 and a beneficiary of Kishori Vikas program. Her father is suffering from Tuberculosis and is bedridden. The family lives on her mother's meager income that she earns through daily labour. Mounika was forced to discontinue her studies as her father sent her to work as a maid and carry out domestic work at Film Nagar locality to supplement the family income. When Kishori Vikas volunteer met Mounika, she showed great interest in continuing her studies and expressed that she was unhappy doing domestic work away from her home.
Mounika's parents were counselled and encouraged to readmit her to school and to send her to everyday Kishori Vikas centre. Now, Mounika is studying once again and enjoying being at school.

Affection Homes
Those children who are not owned by anyone is our children. Present in 15 places across state and we provide shelter for their upbringing despite their challenges

Health
Connecting doctors to slums, Shelter homes in govt. hospitals, blood banks, regular health camps in the slums. We connect medical fraternity to the people in need

Empowerment
Families struggling for ends to meet, always have many challenges. These challenges can only be solved if they are empowered with valuable information and avenues
Volunteering ensures Not for Profits to reach the needy and empower them in the way that we could.

Service to Mankind is Service to God
This is the best time for us to connect and start working together. Please submit the details below and we will get back to you